20210819 北美洲;美國;水災
2021.08.20

(0819)[CNN]美國北卡羅來納州洪水 造成2人死亡及20人下落不明
2 dead and 20 unaccounted for in North Carolina flooding after the remnants of Tropical Storm Fred slam area
Canton, North Carolina (CNN)Two people have died and searches for others are underway amid severe flooding in western North Carolina, where the remnants of Tropical Storm Fred swamped or washed away homes and roads, authorities said Thursday.About 20 people are unaccounted for in Haywood County west of Asheville after Fred slammed the area as a tropical depression on Tuesday, county authorities said.Gov. Roy Cooper, who toured the area Thursday, said two deceased victims had drowned. Officials have not released their names.About 250 rescuers, some using boats and drones, are searching for the missing in that county, state emergency management officials said. Stunned residents there — as well as badly flooded Transylvania County nearby — are taking stock of a changed landscape.Rushing floodwater swept away Cheri Mincey's Haywood County mobile home while she was still in it Tuesday, until it came to rest against a tree, she told CNN affiliate WLOS."I lost everything. My clothes, my jewelry, everything," she told WLOS.
Cooper said about 200 water rescues had been done.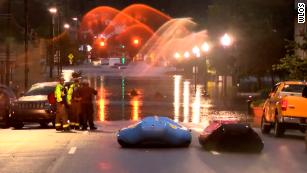 Around 35 people are unaccounted for after Fred floods western North Carolina"The search and rescue efforts are not stopping until we know where people are or we've been able to find somebody," he said, adding that officials are utilizing cell phone tracking along with other ways of trying to find those unaccounted for or thought to be missing based on 911 calls.The flooding stemmed from heavy rain — parts of western North Carolina received more than 10 inches from Sunday through Wednesday, the National Weather Service said.Rain exceeded 5 inches from Monday evening to Tuesday evening alone in the Haywood County community of Canton, the weather service said, swelling the Pigeon River to more than 9 feet above flood stage and the highest level since 2004.Flooding and washouts have done "significant damage" to county roads — especially around the community of Cruso — with 10 to 15 bridges damaged or destroyed, the county emergency services department said.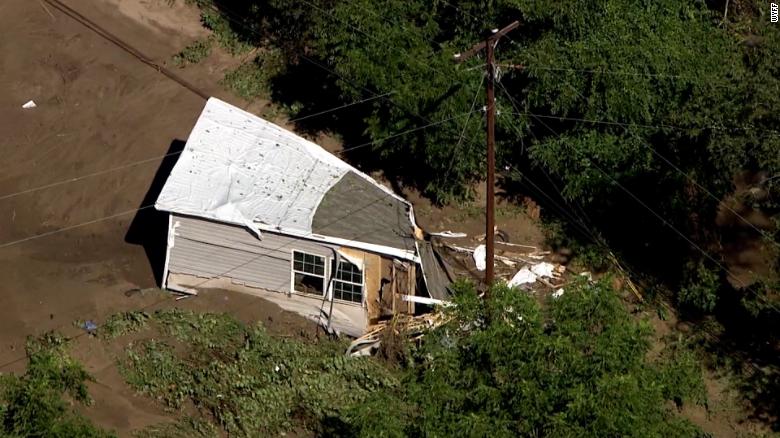 Floodwater laps up against a damaged home in Canton, North Carolina, on Wednesday.Cruso, about a 30-minute drive southwest of Asheville, "saw some of the worst destruction in Haywood County that I've seen in my life," county Emergency Services Director Travis Donaldson told reporters Thursday in Canton.State transportation personnel are working to rebuild bridges and roads "so we can get more help to people who truly need it," Haywood County Sheriff Greg Christopher said Thursday.The governor declared an emergency Wednesday for the state.
The cleanup has begun and everyone is pitching in
Casey Kruk, principal at Canton Middle School, told CNN a lot of damage was done to parts of the campus."It looks like you've taken a snow globe and shaken it up and turned everything upside down," he told CNN while standing on the heavily damaged football field about 75 yards from the river.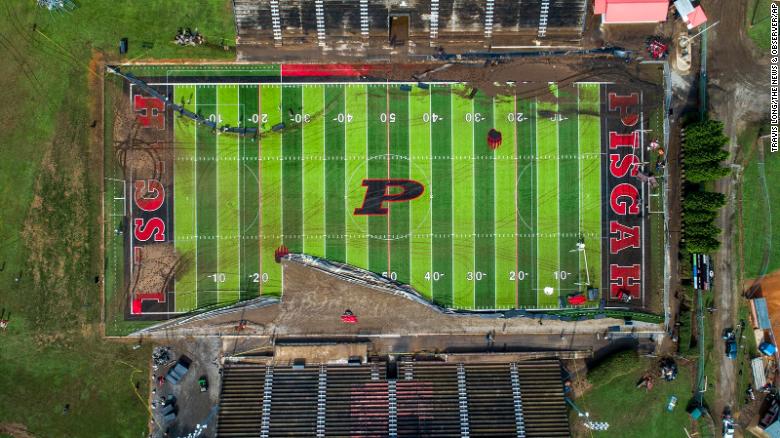 Volunteers on Thursday clear debris and try to salvage athletic equipment at the football field shared by Pisgah High School and Canton Middle School.He estimated 7 to 8 feet of water came through the area and classrooms in some schools were muddy messes.Hundreds of students, townspeople and folks from nearby counties came out to help clean up."People to come in here with a pair of work boots and start shoveling, that's what we need right now. Once we get that done we'll figure out what else we need," Krushsaid.Casey Conard, an assistant principal at Pisgah High School, which shares the football field with the middle school, said some of their classrooms had water damage."This is bad but the homes that are lost and the people, that's the big thing," he said. "The people in our communities, they're just hurting right now."Thursday was a day for tearing down damaged fences and moving trash into big piles. Then the repairs would start."We'll get back. It'll take us a little while but we'll build it back," Kruk said.Art O'Neil, co-owner of BearWaters Brewing Company on the river, said the small brewery's packaging operations were submerged by the waters."We're still digging mud out of the basement," he said. All of the equipment down there will have to be taken out and assessed, and they'll see what they can save, he said. The beer lab, with its research and quality control equipment, was in the basement, too, he added.O'Neil said he feels violated. "It'll bring you to tears," he said. "It's what we put our life into."Inside the basement Thursday, some of the dozens of volunteers filled wheelbarrows with soupy mud, rolled it out and dumped it by the river.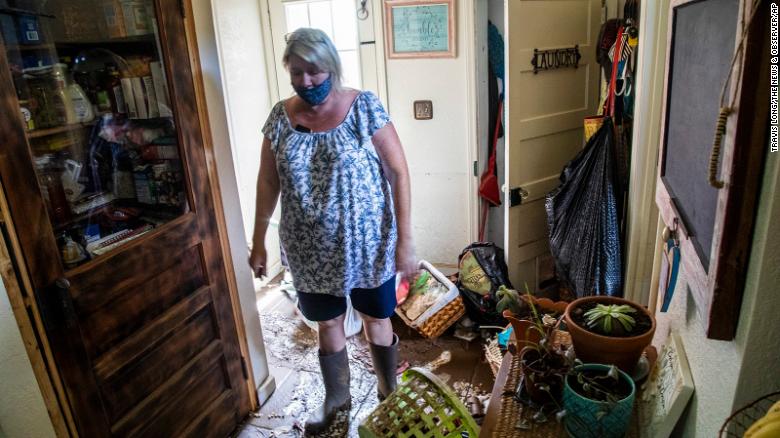 Donella Pressley's home in Bethel, 5 miles from Canton, was heavily damaged by the flood.
'Like a nightmare; like we needed to build an ark'
Haywood County authorities started responding to calls about high water Tuesday afternoon — and soon had to help people from their homes, the sheriff said Wednesday.Several people were located safe and reunited with their families Wednesday, but several others were added to the list of unaccounted for throughout the day following the heavy flooding, officials said.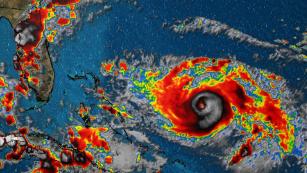 2021 Atlantic Hurricane Season Fast Facts"As the water level began to rise, a whole lot faster than I have ever saw it rise here in our county, we soon started to have to rescue people from their homes and provide additional assistance to our residents, and to our fire departments," Christopher said.In rural Transylvania County, water poured onto Susan Arnold's front yard "like a rushing river," and ended up deluging most of her property, she told WLOS."Like a nightmare; like we needed to build an ark," Arnold told WLOS after water receded and her family set about cleaning the property.In Canton, a community of about 4,000, floodwater overturned machinery at American Cleaners and left thick mud on the floor, WLOS reported."It's going to take some money from somewhere to help bail us out, because nobody around here can absorb this kind of a loss out of their pocket," owner Tom Wilson told WLOS.Mincey, the Haywood County mobile home resident, recalled the moment floodwater carried the home away."All of a sudden, I'm floating! I don't have a steering wheel, I don't have a brake, I don't have anything to control it," Mincey told WLOS,She called 911, and she was told to stay on the highest piece of furniture. Rescuers retrieved her three hours later, and she stayed Wednesday at a high school gym being used as a shelter, WLOS reported.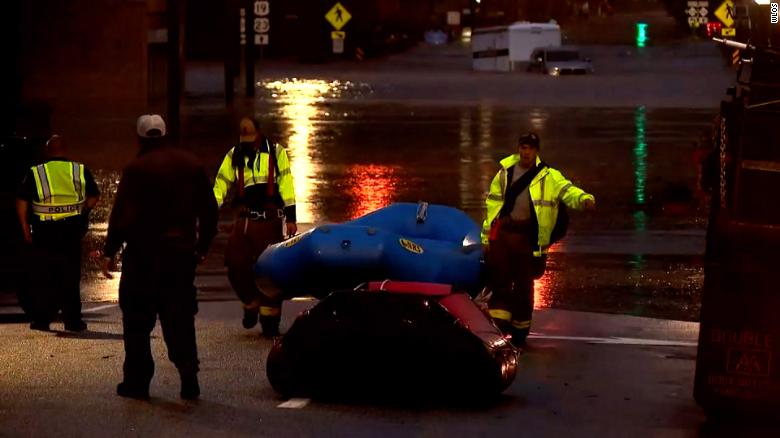 Crews rescue stranded drivers in Haywood County on Tuesday.