20210721 北美洲;美國;野火
2021.07.22

(0721)[BBC]美國俄勒岡州今年最大的Bootleg野火已燃燒364,000英畝 數千人撤離
Oregon Bootleg Fire: Evacuations as largest US fire burns 364,000 acres
In the US state of Oregon, the nation's largest active wildfire has burned through more than 364,000 acres, prompting thousands of evacuations.
Over 2,000 firefighters are tackling the so-called Bootleg Fire – one of the largest blazes in Oregon's history.
Since starting on 6 July, it has already scorched an area larger than the city of Los Angeles.
It is one of more than 80 major fires raging across 13 US states, spurred by recent heat waves and high winds.
Climate change increases the risk of the hot, dry weather that is likely to fuel wildfires.
The world has already warmed by about 1.2C since the industrial era began and temperatures will keep rising unless governments around the world make steep cuts to emissions..
The Bootleg Fire in Oregon, named after the nearby Bootleg Spring, has forced at least 2,000 residents from mostly rural areas to abandon their homes. At least 160 homes and buildings have been destroyed so far. No deaths have yet been reported.
Authorities said that about one-third of the fire's perimeter had been contained.
"We've had to fight for pretty much every foot of this, but we're getting there," said John Flannigan, an operations section chief at a news conference on Monday.
Mr Flannigan described the intensity of the fire as that of a hurricane, saying that it had ripped trees out of the ground.
The blaze has grown so large that it is effectively creating its own weather. Intense wildfires, like Bootleg, move with such energy that they can create pyrocumulus clouds – also known as "fire clouds". These clouds are so hot and big they can create their own weather systems, like hurricane and lightning.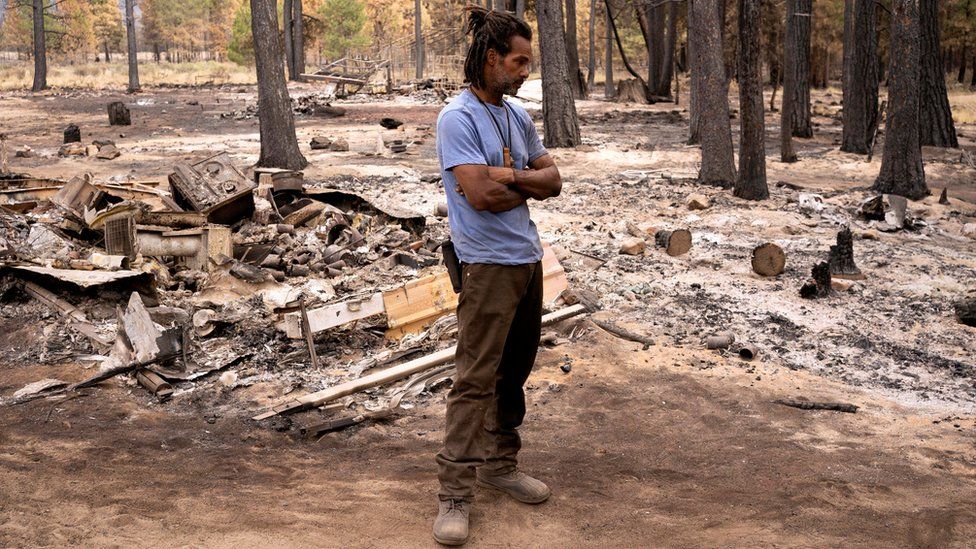 One resident near the town of Bly whose home was destroyed by the Bootleg Fire, Sayyid Bey, said he watched from afar as the blaze burned through the trees towards his property. "It was red, like we were on Mars," he said.
The fire, which is burning 300 miles (480km) south-east of Portland, threatens to destroy thousands more properties as it continues to spread.
Two evacuation centres have been set up for residents in several cities, including Klamath Falls and Redmond.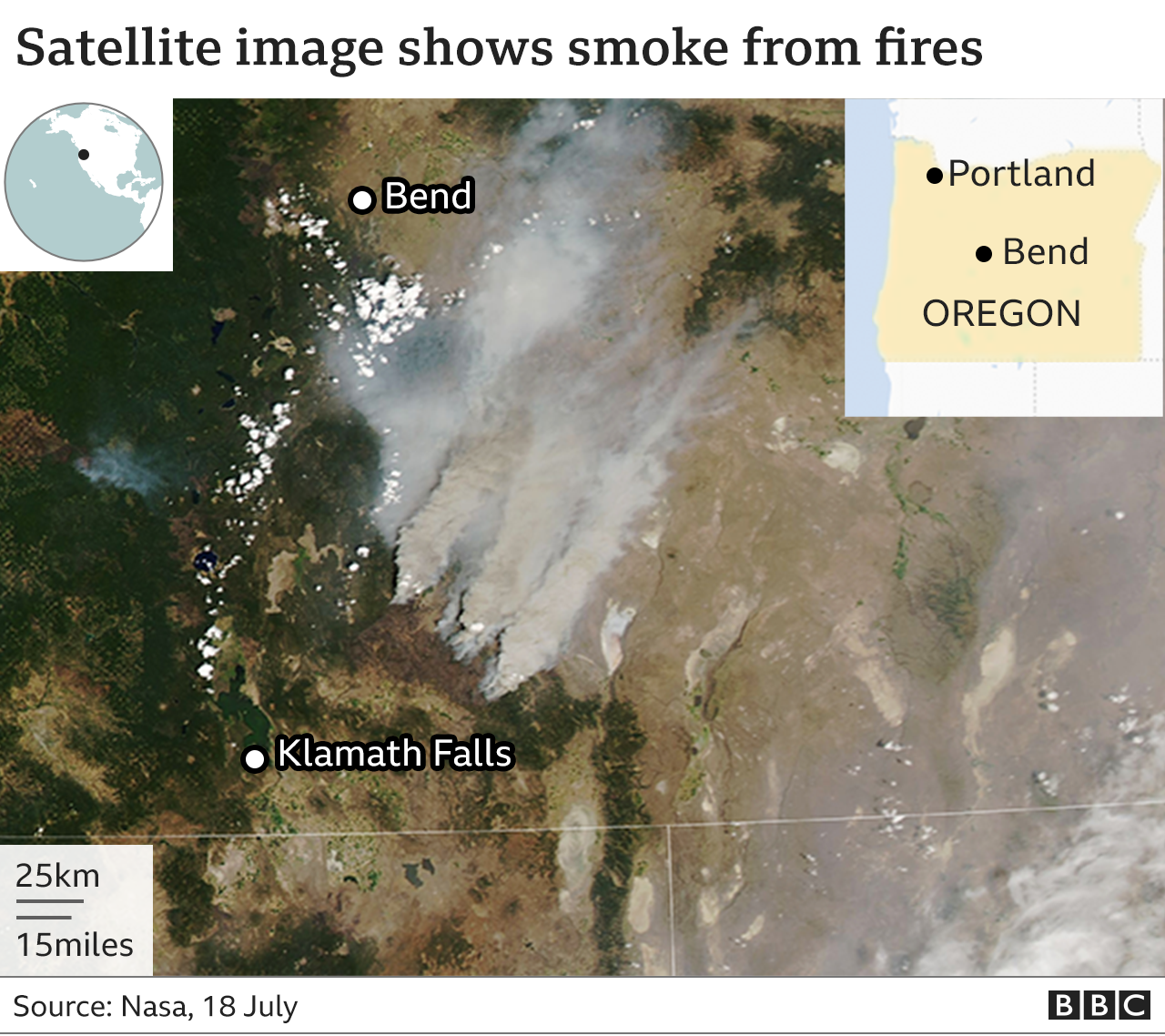 Temperatures are expected to be between 10 and 15 degrees Fahrenheit above normal and the region is also experiencing a drought, which could worsen in the days ahead. Thunder and lightning are also forecast, likely to spur further fires.
Wildfires have already torn through more than 1.2m acres of the country this year, mainly in western states, according to the National Interagency Fire Center. It marks a heavier-than-normal start to the US wildfire season.
More than 4,000 blazes have been recorded by the organisation so far in 2021, which is almost double last year's total.
In California alone, five times as many acres have burned compared with the same period last year.
Fire seasons are becoming longer and more intense year over year, Nick Schuler, deputy chief of Cal Fire told the BBC.
"Ten years ago in California, people viewed wildfires as a rural problem," he said. "Now no matter where you live in California, people are impacted by it. Every acre in California will burn at some point."
The rest of the country is not unaffected by the destruction. On Tuesday, the US east coast woke up to hazy skies and a bright-red sun caused by wildfire smoke.
In neighbouring Canada, more than 150 new fires started burning in this past weekend alone, according to the Canadian Interagency Forest Fire Centre. More than 4,300 blazes have been recorded by the non-profit in 2021 so far.
In the province of British Columbia alone, crews are battling hundreds of fires, straining available accommodation for those who have been forced to flee.
On Tuesday, the province declared a state of emergency in response to the wildfires.
Canada has also issued health warnings due to wildfire smoke spreading nearly 2,000km across the nation. The elderly, children and those with cardiovascular issues are advised to limit outdoor activities and drink extra water until the smoke passes.
"Winnipeg smells like a campfire right now," tweeted one reporter. "I've never experienced smoke like this in my entire life."
There are nearly 800 wildfires currently burning in Canada, with no sign of rain in the forecast for the western provinces.
Experts have told the BBC that due to a multi-year drought, the potential for a historic 2021 North American wildfire season is "sky-high".